WIZ 10" EP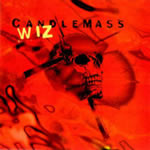 Year: 1998
Cat no: Frog 001
Label: Froghouse
Info: The first vinyl ep released on Leif Edlings own label Froghouse. 500 copies were made.
The other releases were Spiritual Beggars "Violet Karma" (Frog 002), Bozeman's Simplex "Hyperdrive" (Frog 003),
Brick "Smack" (Frog 004), The Quill "Evermore" (Frog 005) and Zen "So very Zen" (Frog 006).
These items are today expensive collectors items thanks to the limited editions.
Track list:
WIZ (Side A)
CONTAINER (Side A)
BUG QUEEN (Side B)
THIRST (Side B)