KING OF THE GREY ISLANDS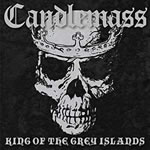 Date: June 22, 2005
Digi no: 18181
Lp no: 18180
CD no: 18182
Label: Nuclear Blast
Info: Also called the "Black album".
The disc itself was supposed to the jet black as a contrast to the previous albums white disc. If it wasn't for NB's product dpt who "improvised" the skull…..
The track "Edgar Grey" is only available on the vinyl version
Track List:
Prologue
Emperor of the Void
Devil Seed
Of Stars and Smoke
Demonia 6
Destroyer
Man of Shadows
Clearsight
The Opal City
Embracing the Styx
Digipack bonus:
At the Gallows End (w Rober Lowe)
Solitude (w Robert Lowe)
Vinyl bonus:
Edgar Grey
We had pretty chaotic tour in the fall of 2005 where the-singer-that-should-not-be-mentioned just too clearly showed us exactly how much he didn't give a shit about anybody else than himself, and at the same time failed to deliver on stage. Coming home from a month of turmoil, the band was on the brink of disaster…nevertheless……….. I started to write new material. Maybe it was to exorcise certain demons.
I had 4 new songs written in the beginning of january. Think it was "Demonia 6", "Emperor of the Void" "Edgar Grey" and "Destroyer". Also had a vague concept in my head, a loose story about being lost in a society built on youth, fast media, money and the superficial. Well, pretty much the world we live in today.
We started to rehearse in january 2006 without M, who was still suffering from a very bad throat infection due to some heavy partying on the tour with Destruction. We wanted to record with friend/producer Andy Sneap so we had arranged for a weekend with him in the Polar Studios in Stockholm late fabruary, but only basic tracks were recorded there. M's throat wasn't back into shape.
During a band meeting prior to the recording with Andy Sneap, it was also clear that Messiah's demands for singing on a new album wasn't gonna be easy to meet.
The band was rehearsing intensly in april, when M's irrational behaviour and absurd demands finally led to a break up. The band just couldn't function anymore. Either we were held hostage by a mad singer or went on hoping to find a person more open to democracy, discussion, compromises and teamwork. We knew that our only future was to go on and record the album without Messiah. We did that in may 2006.
But it wasn't over. The record company wasn't too happy seeing the "golden goose" disappear.
After all M had signed a contract and NB wanted it to be fulfilled, so 5 months of hard negociations followed. I received some eh…"creative" phonecalls from the Blast staff who were talking to M and apparantly had no idea who they were dealing with. After a couple of months I had a call from a very frustrated label manager at NB saying that it was impossible to come to understanding with Messiah. His demands for singing on the album was just way too unrealistic.
So we put ads out in the swedish magazines and on the homepage. "CANDLEMASS IS LOOKING FOR A NEW SINGER"!! We wanted someone scandinavian but it didn't take long until we realized that we had to expand our search. We had 3 guys trying out in Polar…two swedes and one dane…Good singers but none of them had that little extra we were looking for. The search went on….think we listened to about 80 singers from south america to Cyprus and Iceland(!) until we heard from Robert Lowe through his girlfriend Heather in february 2007. Robert sang on some rough basic tracks we had prepared in Polar, "Solitude", "At the Gallows End", and "Demonia 6". He blew everybody away….
We had finally found our singer!!
Some hectic times followed. Robert had to do all the vocals in a couple of weeks, so the album could be mixed in march for a release in june 2007. Robert did his vocals like a true pro in Nomad Studios in Dallas. I woke up here in Stockholm, listened to the tracks on the FTP server, and sent him my remarks. When Robert arrived to the studio in the afternoon he checked my comments, re-did the trk and the next day I woke up the song was done Easy and effective!!
I must say I really like the K.O.T.G.I. album. Maybe it is because we went through hell and back with it. We have to consider ourselves lucky it even came out for gods sake!! Hahahahaha!! Even though it is a bit too compressed – it's tough for me to listen to it – I do love some of the songs: "Empreror of the Void", "Devil Seed, "Man of Shadows", "Clearsight" and "Embracing the Styx"…..Good stuff!!
Some fans had a hard time to accept that M was gone (some well know journalists even declared our death!), but we soldiered on…you can't keep a good band down, right!…and K.O.T.G.I actually won nearly as many soundchecks as the white album, and eventually…sold rather well!!
We knew that it would take some time for people to get used to a new singer, and I think we have reached that point now. Death Magic Doom receives fantastic reviews, and many fans today fondly look back on K.O.T.G.I. as the start of something great!!!
Leif (april 09)