FROM THE 13:TH SUN (1999)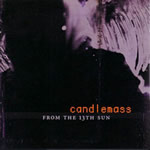 Music For Nations
CD MFN 253
Released september 6, 1999
Info: Cover was made by swedish artist Micadelica. A series of photos portraying homeless people with angel wings and elf ears, called Urban Myths.
Tracklist
Droid
Tot
Elephant Star
Blumma Apt
Arx/NG 891
Zog
Galatea
Cyclo-F
Mythos
(jap editon bonus track: Oil)
Candlemass came back with a vengeance after the release of "Dactylis" april 1998. Three month later a newborn band checked in at the Slam Tilt studio in Stockholm. Driven by anger and frustration over the situation and circumstances surrounding the "Dactylis" 18 month production-span, Leif and the lads were set to make a killer record fast and with a minimum of a budget. Owned by a friend of Björn the band was allowed to rehearse in the little studioroom next to the small room were you mixed. Slam Tilt wasn't fully equiped, it was mainly a demostudio but some Gone albums were done there some years earlier featuring Björn and new boy in Candlemass, Mats Ståhl on guitar. It was small, cozy and just perfect!
Candlemass rehearsed two times a week the entire summer trying out ideas as well as how it was to work with Mats. And he fitted like a glove! With his red SG he had a monstrous sound, so primitive and plain mean. A huge stack of 70's effects also helped to create another dimension to the Candlemass sound, an atmosphere that normally needed an organ, moogs and synthesizers. Mats Ståhl does everything with a suitcase of pedals. It didn't take long before they knew they were on to something. The rehearsals sounded amazing and they really didn't need any keyboards for the record they had Mats!
Some demoes were done, featuring early versions of "Tot" and "Blumma Apt" plus a long bluesy tune that later got excluded. The songs came together really quick, mainly jammed together from Leifs ideas. With Mats caveguitar and the overall slacker attitude with just one ultralow guitar and a halfbluesy style, Candlemass headed back to '71. It was only the hair and flares that were missing.
Leif, Björn, Mats and Jejo recorded ten superheavy tracks in september 1998. The first four Black Sabbath-albums served as blueprints, especially the first and "Master of reality". But don't get it wrong, "From the 13.th sun" (the early worktitle. Candlemass wanted to call the album "Tot" or "Smrt", meaning death in serbocroatian, but MFN wanted to keep "From".) is a hommage to Black Sabbath but in no way a rip-off. You can hear rain and churchbells on "Tot", bits and pieces here and there, but mainly "From the.."  is a motherfucker of an album. Maybe the best one this far.
Together with "Epicus" this is one of the most evil, brutal and loud records released since "Vol 4". They don't make'em like this anymore. The songwriting is flawless; "Droid" with the robotic bulldozer riff and killer chorus, "Tot" the colossal monumental epic that was written in a day during the summer rehearsals. "Blumma Apt" (the vice president of the swedish traffic departments old english teacher), Björns song that was reworked and rearranged over and over again til somebody said "Let's get rid of all the unessesary parts". "Arx" was also different at first with a heavier verse and more vocals (sometimes less is more). The intro/outro was inspired from the bizarre sci-fi movie "Dark Star" by John Carpenter.
"Zog" was on a pretty good rough mix (the band thought it was good anyway) that also included "Tot" and "Blumma Apt". The MFN judgement was hard. Crap and amateurish were the words they used. Of course it is the rough version of "Zog" that appears on the record, later referred to as brilliant and great by the same people.
"Zog" comes from a fantastic Mr. Bean sketch were Rowan Atkinson is "Inspector Zog" a marsian policeman with communication problems! "Zog" is also the old communist boss of Albania.
And "Galatea" was the Zeppelin song. On the record it is about half as long as the original version. The last track is "Cyklo-F" (menstruation pills) a piece Candlemass never rehearse before gigs just to keep it fresh and spontane. The element of "surprise" can occasionly drag the tune out for ages and ages live.
Oh yes, I almost forgot the cover; It was done by a famous swedish photographer, Mikeadelica, and is taken from his "Urban myths" exhibition. A series of photos showing winos, outcasts and homeless as elfs and angels with wings. Very softed pictures with a dreamy touch of fairytales. So it is a real demon/angel on the cover and not a volcano or streetlights in a rainy Stockholm night.
"From the 13:th sun" is the revenge, the true comeback of a band that don't have any competition in their genre. Even though the Candlemass profile is pretty low these days, they remain the masters of doom!