EPICUS DOOMICUS METALLICUS (1986)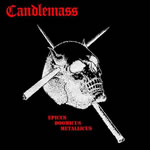 Black Dragon Records
BD LP/CD 013
Released june 10, 1986
Info: Reissued on dbl lp 2001 by Powerline with Birmingham 1988 Live on lp 2.
Tracklist
Solitude
Demons Gate
Crystall Ball
Black Stone Wielder
Under the Oak
A Sorcerers Pledge
"Epicus Doomicus Metallicus" was the result of a rather hectic period of the bands short existence. Only a year prior to the release Leif Edling approached long-time friend Mats Ekström and soon after Mats "Mappe" Björkman was brought in to complete the first real line-up of Candlemass. The band – who just changed the name from Nemesis (due to a copyright law-suit) – rehearsed in a small house on the very top of a small mountain. Maybe it was the remote location or the fact that Leif, Mats and Mats were true metalheads with a true love for Black Sabbath (of course), Venom, Accept, Trouble and Mercyful Fate, but a fact was that the songs got heavier by the day. "Under the oak", "Crystal Ball", "Demons Gate" and an early double bass-drum version of "Dark Reflections" were the first masterpieces of doom that saw the light in Upplands Väsby 1985.
In november they entered studio O.A.L. to record a demo featuring "Demons Gate" and "Black Stone Wielder". Unsuccessfull to find a singer, Leif had to do the vocal duties on this occasion, with passion rather than skill. Only one demo was sent out, to Black Dragon Records in Paris, France who immediately offered Candlemass a one record deal. With an ass-tight budget – $1 800 – "Epicus, Doomicus, Metallicus" was recorded in Ragne (Heavy Load) Wahlquists Thunderload studio in february 1986.
I remember that the place was so cold we had to wear gloves and longjohns. Johan Langquist (who agreed to sing on "Epicus" but couldn't be persuaded to continue with the band) breathed ice and didn't hear one note before the recording session. Leif smiles at the memory. After his superjob Johan continued with his own more pop-oriented things, unaware of the global adoration of his performance on "Epicus". The ultraheavy production is partly due to Ragne Wahlquists skills, but also to the bands dedication, knowing exactly what they wanted to achieve. Mats Ekström got the drums the way he wanted, high kicks and even louder toms. Mappe Björkman expanded his guitars with a brutal stereodub. Leif Edling was mainly in charge over the vocal coaching and spent a lot of time with Johan in the freezing studio. During the mix the band ran in rushhour-traffic between the studio located in a bunker in the Stockholm subwaysystem, and old friend Kjell Svenssons muscular car stereo.
Candlemass are to this day grateful to Kjell who secretly increased the bass so Mats E finally could settle for more humble bassdrums. Soon after the release the band was dropped from Black Dragon Records. The reason was disappointing sales. The first payout was one international reply coupon. Candlemass used it to gladly accept the sad facts. Today "Epicus" is hailed as a doom classic and a masterpiece of heavy, powerful metal music. In other words:  Epic Doom Metal.